The day I recorded this episode I almost lost my mind!
I got to the studio and, for whatever reason, everything was a total shitshow.
I got super flooded—and I really hate feeling out of control.
Thankfully, I had enough awareness to pause, check in and use my tools to get back to center.
in those moments of pause, we have this opportunity to pivot—and that's when miracles happen
We all face moments that trigger anxiety or just throw us off-kilter. This episode will show you how to witness your anxiety and come back to center.
Click here to learn my methods now.
One of the most powerful ways to overcome anxiety is by being the nonjudgmental witness to your inner world. When you're aware of your thoughts and feelings, you can start to identify the triggers that cause your anxiety and learn to respond to them in a healthier way.
Step into the power of being the witness to the activated state.

gabby
I've made a commitment to notice when I'm out of alignment and adjust, and today on Dear Gabby I'm giving you real-time examples of how you can do the same.
pause and pivot when you're triggered
We all have different triggers.
Maybe your kid threw a tantrum this morning.
Maybe somebody doesn't show up for you the way you expected.
Maybe something in your life just isn't working out right now.
I'm going to teach you how to get back into a centered state when you get activated or just plain pissed off.
For me on the set, I needed to get back into my body and back into my breath, which helped me feel more gratitude for all these beautiful people who help me connect with you. I was able to get back into a centered state so that I could be fully present for you.
In any moment, we have that opportunity to pivot. We have that opportunity to get centered and release.
And it can happen that fast. Some of it is just about taking a beat, taking a breath, taking a moment and stepping away.
how to deal with emotional triggers
Be present with what you're feeling. Give voice to it and witness what's happening. In that moment of respect for that part of us, we can take a breath. We can let the pause point us in a new direction.
You can practice these steps for returning to a centered state:
Check in with your body. What are you feeling? What thoughts are coming up? By directing your attention to what you're feeling in the moment, you create an opportunity to notice what's happening on the inside.
If there's a physical sensation that comes up for you, place your hand on that part of you and breathe into it.
If it's a thought you notice, witness the thought and forgive yourself for having the thought. Being a witness of the activated state gives you the power to start settling your system in the moment.
Practice recognizing when you're out of center and follow the steps above to pause … and return to a centered state.
I've really made it a commitment to notice when I'm out and come back in, and today on Dear Gabby I'm giving you real-time examples of how you can do the same.
In this episode, you'll learn:
How to realign your energy when you're feeling triggered or angry
How to clear chaos and invite moments of clarity and connection instead
Ways to forgive yourself on difficult days and reset your feelings at any time
CLICK HERE to join me on Dear Gabby.
get more gabby
I can be your coach—anytime, anywhere!
My NEW gabby coaching app makes personal growth easy to access. Get weekly lessons, guided meditations and proven manifesting methods to enhance every area of your life—on your own terms, at your own pace, all in one place.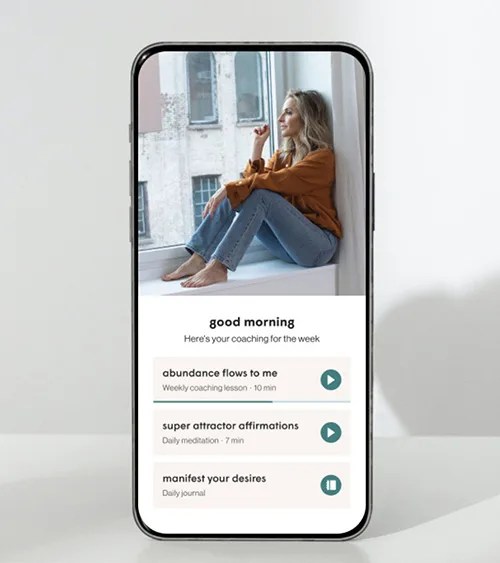 Transform your life in just 10 minutes a day with:
Weekly coaching with practical tools that will instantly improve your life
Quick access to 200+ meditations, affirmations, prompts, lessons and more
️️Quarterly challenges to release old patterns and jumpstart new habits
On-demand access to my best motivational talks
I'll be your coach to help you manifest your desires and live with an unshakeable sense of inner peace.
disclaimer
This podcast is intended to educate, inspire, and support you on your personal journey towards inner peace. I am not a psychologist or a medical doctor and do not offer any professional health or medical advice. If you are suffering from any psychological or medical conditions, please seek help from a qualified health professional.