In 2013, I went on an international tour to promote my book, May Cause Miracles. The book is a guide to creating radical change and unlimited happiness in every single area of your life.
But no matter which city I visited on my tour, everyone was flipping out over the same chapter! Readers everywhere would look me in the eye and say: "Gabby, the chapter on Body Image changed my life."
That's because this chapter has a powerful message that we all need to hear. It teaches us that the body's true purpose is to express more love. And that all begins with expressing love towards ourselves.
It can be quite challenging to view our bodies through the lens of love. That's why I'm so excited to share today's bonus episode of the Dear Gabby podcast!
This episode features one of my favorite live talks. It will open you up to a radical new perception of your body.
An eight-word mantra you can use to feel spiritually connected to every meal that you eat (these words helped me overcome my food addiction)
A prayer that will instantly bring you back to a state of peace anytime you have a fearful thought about your body (this is one of my favorite lessons from A Course in Miracles)
The single most important spiritual lesson I teach in all my work (seriously: almost all my teachings boil down to this—I practice it all day, every day)
The BEST "spiritual diet" you can follow (this is the most powerful motivation to clean up your habits)
love your body: a spiritual practice
Today's Dear Gabby will inspire a shift within you. By the time you're done listening to this talk, you'll be energized to take care of your body with far more love and compassion. And if you want me to be your body-love coach, download my new Gabby coaching app (see more info below!), which includes the Body Love Challenge!
If you want to miraculously transform your relationship with your body, this challenge is for you!
May today's Dear Gabby open you up to a miracle mindset about your body!
get more gabby
The following are helpful resources and books I mention within the episode.
In this episode of Dear Gabby, I reference my New York Times bestseller May Cause Miracles. This book will teach you how to shift your thoughts to experience miraculous change in all areas of your life, including the way that you perceive your body.
My newest book Happy Days: The Guided Path from Trauma to Profound Freedom and Inner Peace shares the story of how I recovered from trauma using spiritual and therapeutic tools. I used several body-based healing practices on my journey to freedom and peace. If you're interested in this topic, check out Chapter 7, "Hiding Behind the Body."
I can be your coach—anytime, anywhere!
My NEW gabby coaching app makes personal growth easy to access. Get weekly lessons, guided meditations and proven manifesting methods to enhance every area of your life—on your own terms, at your own pace, all in one place.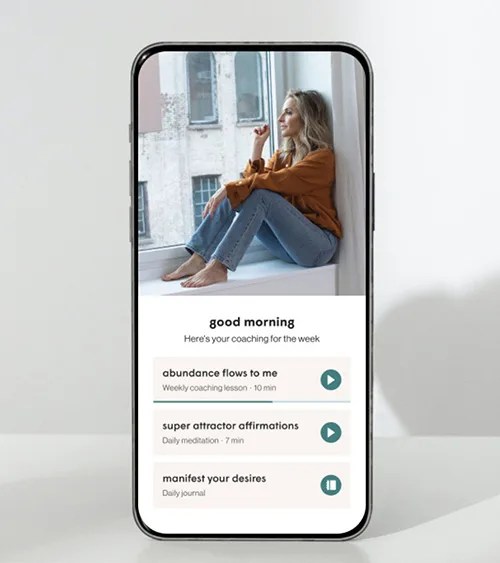 Transform your life in just 10 minutes a day with:
Weekly coaching with practical tools that will instantly improve your life
Quick access to 200+ meditations, affirmations, prompts, lessons and more
️️Quarterly challenges to release old patterns and jumpstart new habits
On-demand access to my best motivational talks
I'll be your coach to help you manifest your desires and live with an unshakeable sense of inner peace.
disclaimer
This podcast is intended to educate, inspire, and support you on your personal journey towards inner peace. I am not a psychologist or a medical doctor and do not offer any professional health or medical advice. If you are suffering from any psychological or medical conditions, please seek help from a qualified health professional.