O.M.G. My new book, Happy Days: The Guided Path from Trauma to Profound Freedom and Inner Peace, is out this week!!! (In case you're reading this later, the book launched on February 22, 2022.)

This. is. big.
It's a privilege to be an author. Not just because I can share my work with the world, but because writing a book is the most profound experience of personal growth. I've often said that I write my books for myself first.
When I decide to write a book like Happy Days, it's because there is a whisper within me saying, "There's more to heal and reveal." I open my heart and soul to receive intuitive guidance and share my authentic truth in the hopes that I will come through the journey as a new version of myself.
And that's my hope for you. In this episode of the Dear Gabby podcast I get vulnerable to share my journey from trauma to profound freedom and inner peace. I teach you that no matter what you've been through in life, there is always freedom on the other side. Happy days await you.
the time is now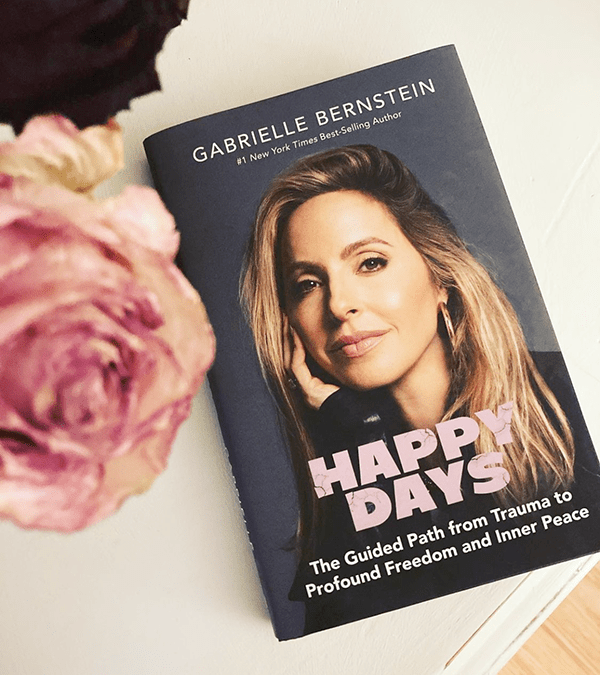 This is a very important episode of the Dear Gabby podcast. It's an episode I never thought I'd be able to record. You see, I've been on a devotional journey of undoing the traumas and fears from my past to be free in the present. And I never believed I could truly share about it until I'd fully lived it. The time is now, my friend.
The journey I underwent to get to where I am today is nothing short of a miracle. I share that miraculous journey in my ninth book, Happy Days: The Guided Path from Trauma to Profound Freedom and Inner Peace! And the book is out this week!
In this week's podcast I share about the principles of this book, what this work means to me, and how it can change your life.
I also read the introduction to the book out loud.
happy days introduction
"We're anxious for you, Gabby," said my publisher after reading the first pass of the manuscript.
They continued, "It feels too vulnerable. You're revealing one difficult moment after the next. You're not showing your true strength."
"My ability to be this vulnerable is my true strength," I responded.
The conversation carried on with several moments of tears, passionate explanations defending the manuscript, mixed with mutual agreement and love.
While this was a challenging conversation to have, it was necessary. This book is different from the eight that came before. It reveals parts of me that I'd never known were there until this writing process. This book tells the story of how to survive and thrive. This is my story of recovering from trauma.
This isn't a book filled with self-help tools offering a quick fix for your discomfort. Instead, it's a journey toward lifelong transformation filled with stories of resilience.
My hope is that my vulnerability will give you the chance to look more closely at yours. I hope to give you permission to face feelings you've buried deep, and give you guidance on how to heal from them. This book will help you reclaim the fragmented parts of who you are. Your innocence, your faith, your ability to know true love within. It offers you the guided path to the peace you're looking for. My prayer is that this book sets you free.
spirit works through books
Happy Days is my most important spiritual work yet. And in today's episode of Dear Gabby, I tell you why.
This solo episode truly comes from the heart. It's my love letter to anyone who's ready to take the Happy Days journey with me!
If you've been guided to this episode of Dear Gabby, I believe that's no accident. Spirit works through many things—including books, authors and podcasts.
If you choose to read the book, I want you to know that I'll be with you on every page. I urge you to take your time on this healing path. You can find additional resources for support throughout the book, including a link to help you find a trauma therapist near you. I also remind you frequently that I love you, I see you, and I believe in you.
Even if we've never met in person, know that when you read this book, it's an energetic exchange. My spirit is in each page, gently guiding you along your path to becoming free.
If you want to know more about what awaits you in the pages of Happy Days, you can get a sneak peek at each of its 10 chapters below. And you can hear more on today's episode of Dear Gabby.
chapter 1: willing to become free
We start our healing journey slowly. In this chapter, I ask you to commit to a new vision for how you want to feel. You could say, "I feel relaxed and easygoing," for instance. Through a simple journaling exercise and a prayer, you'll connect to your vision statement and start to believe in its promise. You don't have to worry about how you'll get there—first, just focus on feeling peaceful. As a result, the rest will come naturally. Each page will guide you closer to freedom and happiness.
chapter 2: become brave enough to wonder
I gently guide you to examine the triggers and feelings that lie beneath your destructive patterns. Just reading this chapter is brave because it means you're willing to look more closely at yourself. Your willingness begins the process of undoing your fear-based patterns. Get honest with yourself and you become free.
chapter 3: why we run
As soon as I learned the physiological and neurological effects of trauma, I felt far less alone in my recovery. I was able to understand decades of my behavior. In this chapter, I explain the effects of trauma in a compassionate, nonclinical way, so that you, too, can witness yourself through the lens of love, acceptance, and compassion. Seeing yourself in this new way will offer huge relief, and the opportunity to go deeper in your healing.
chapter 4: hiding behind the body
In this chapter, I guide you to consider the ways in which your brain might be attacking your body to distract you from dealing with underlying feelings, triggers or memories. (Please note that I encourage you to also seek medical advice for any physical condition.)
When you allow your subconscious emotions to come to the surface for healing, your life will change forever.

gabby
Your stress responses will subside and your nervous system will relax.
chapter 5: speaking the unspeakable
Shame is the most terrifying emotion of all. I gently guide you to open up to the concept of shame—and to recognize it within yourself. Your willingness to witness and transform this painful emotion moves you toward freedom, and brings real relief. You've started healing the deepest wound, and that will lead to the greatest freedom and peace.
chapter 6: don't call me crazy
To treat depression and anxiety, I took a psychopharmacological path that included a range of therapies, including EMDR and EFT. In this chapter, I describe these therapies, and other forms of treatment, as a form of guidance. If a particular healing method is right for you, you will intuitively know it. From a spiritual perspective, God is in all healing devices — whether it be medication, a doctor, or a therapist. When we are in the pursuit of freedom, we will always be guided to the exact healing methods we need. If you're struggling right now with chronic pain, addiction, anxiety or mental illness of any kind, please know that by following this guidance, you can one day look back and see it as a great gift. When we face our discomfort with faith instead of fear, we can grow in profound ways.
chapter 7: love every part
Internal Family Systems therapy identifies our big reactions and emotions as parts of ourselves that protect us from feeling our deepest core wounds. Does this sound a bit out there? It took me a while to grasp it too—but this therapy has fundamentally changed my life. In this chapter, I demystify IFS, help you identify and honor your protector parts, and introduce you to the concept of a resourced Self that lives within you. As you strengthen your connection to this Self, you'll start to live in harmony. You'll learn to love every part of yourself.
chapter 8: freeing what's frozen
Somatic Experiencing (SE) suggests that unresolved trauma becomes energy that gets frozen in the body. SE offers body-based methods to free up that energy, and resolve trauma. While I recommend embarking on this course of treatment with a trained practitioner, I lay out some gentle SE methods here that you can use to alleviate stress on your own. For example, I teach you a simple and calming chant that relaxes your vagus nerve. As you get out of your head and back into your body, you'll release any stuck energy and feel more inspired, present and connected to the energy of the Universe.
chapter 9: reparenting yourself
During my recovery, I learned to reparent myself. I came to understand that the attachment style I had learned as a child was affecting all of my adult relationships—and I developed a new, secure attachment with my inner Self. The attachment styles are broken down in depth, so don't worry if this concept sounds strange at first. In this chapter, you will learn techniques to reverse the consequences of suboptimal attachment in your past, so that you can feel safe and connected in the present. Living these practices promises resilience. You'll come to care for yourself in ways you may have never experienced before.
chapter 10: happy days ahead
The final step in my healing journey was tapping into grief. Grief can be hard to recognize because it's often buried under rage. But we must heal the root cause of our pain to find inner peace—and that root cause is grief. My hope is that reading Happy Days will let you feel safe enough to give voice to your grief, heal it … and become free. As a result, you'll give yourself permission to believe in happy days ahead.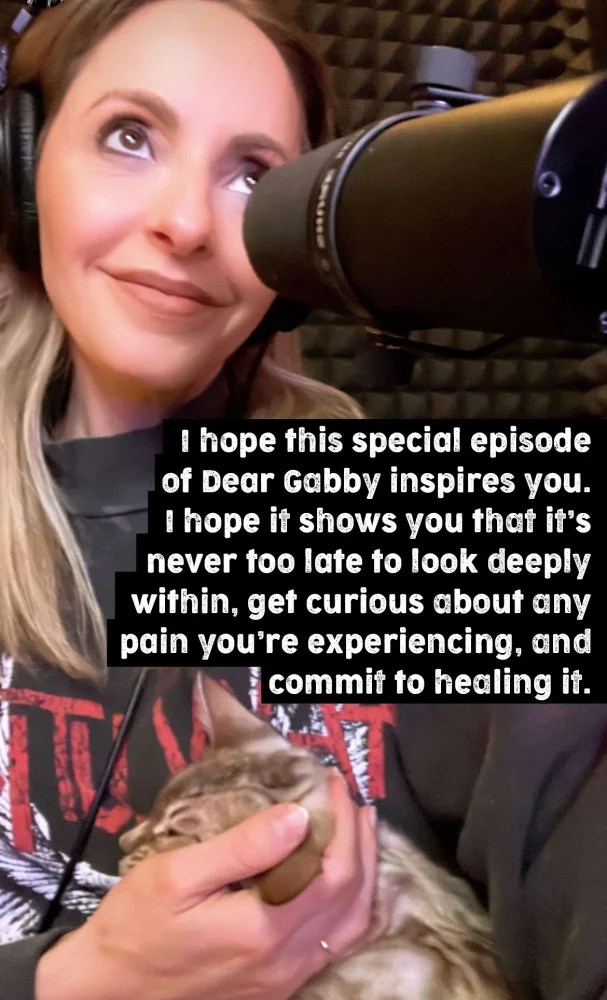 I pray that this special episode of Dear Gabby inspires you. May it show you that it's never too late to look deeply within, get curious about any pain you're experiencing, and commit to healing it.
The path of healing I lay out in Happy Days is gentle. I designed it so that you can take it at your own pace, and I break down any clinical concepts into language that is heartfelt and easy to understand.
It is my deepest hope that the words in this book, and in this episode of Dear Gabby, will make you feel guided by an energy of love. I hope you feel seen, held and supported every step of the way along your path to freedom.
get more gabby
The following are helpful resources and books I mention within the episode.
Happy Days is my most important spiritual work yet. In this new book, I share the 9 spiritual and therapeutic tools that helped me break free from trauma. As a result, I found deep inner peace on the other side of fear and anxiety — and you can, too.
I can be your coach—anytime, anywhere!
My NEW gabby coaching app makes personal growth easy to access. Get weekly lessons, guided meditations and proven manifesting methods to enhance every area of your life—on your own terms, at your own pace, all in one place.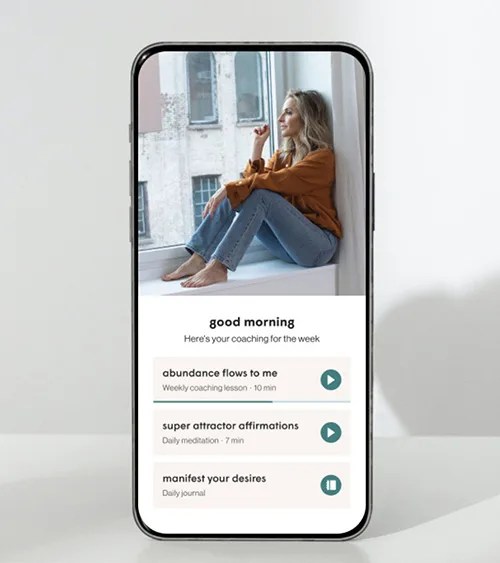 Transform your life in just 10 minutes a day with:
Weekly coaching with practical tools that will instantly improve your life
Quick access to 200+ meditations, affirmations, prompts, lessons and more
️️Quarterly challenges to release old patterns and jumpstart new habits
On-demand access to my best motivational talks
I'll be your coach to help you manifest your desires and live with an unshakeable sense of inner peace.
disclaimer
This podcast is intended to educate, inspire, and support you on your personal journey towards inner peace. I am not a psychologist or a medical doctor and do not offer any professional health or medical advice. If you are suffering from any psychological or medical conditions, please seek help from a qualified health professional.