the power of positive thinking
Ever have one of those mornings that sets you up to fail for the rest of the day? Well, that's exactly what happened to me the morning I recorded this episode.
I woke up at 4:30 a.m. to my 4-year-old son sitting on my head!
And despite my best efforts, we didn't go back to sleep.
I felt too tired and rushed to do my typical morning routine. When we finally got out of bed, I was short with my husband—which threw off his mood, too.
Ollie refused to put his clothes on for school.
I spilled my coffee on my new sweater—and my whole schedule was derailed.
By the time I got home from drop-off, I couldn't shake my frustration.
At that point, I could do one of two things:
1. Stay super frustrated and continue to have a crappy day.
2. Practice my 4-step method for redesigning my day and TOTALLY turn it all around.
I chose to use my 4-step practice, and it worked like a charm! I was able to shift my energy and my mood and show up for you on today's show with a super high vibe.
On this episode of Dear Gabby, I'm going to share my 4-step method to change your mood fast. It's a subtle practice, but it can create radical change in your life. You'll learn how to lean into solutions rather than problems, and how to change your narrative from conflict and loss to growth and possibility.
the Universe is always responding to your energy
Practice this method for the next 40 days and expect MAJOR life shifts.
How the Daily Design method transformed my life
4 questions to ask every morning to put yourself in a positive mindset and set the tone for the entire day
How to reset and realign yourself at any point in your day, wherever you are
How to create radical change and manifest the life you want, one day at a time
You can use this approach from the get-go every day, but you can also come back to it when you need to get back on track.
why do you need this tool?
I can honestly say the secrets to my success have all been centered around creating a positive mindset. It's endlessly iterative and incredibly powerful.
And it all comes down to setting yourself up to win every day by deciding how you want your day to go. Yup, it's all in your hands.
reclaim your super attractor powers
Have you ever had a day that felt like it was just spiraling out of your control? Like it wasn't possible to feel aligned with yourself and the Universe?
Or, have you ever told yourself, "Maybe tomorrow will be better."
I'm telling you that you don't have to wait. You can take back the reins today, right now.
You are already in the driver's seat.

gabby
My Daily Design method and the 4 questions I'm revealing on Dear Gabby will put you back in control and back in Super Attractor mode. 
It's never too late to course-correct. When you reprogram what you believe, you can start to experience a totally different perspective and a totally different life. Living a fun life isn't about how perfect our attitude is. It's about how quickly we return to high vibes.
Ready to turn this day around? Start right here.
get more gabby
I can be your coach—anytime, anywhere!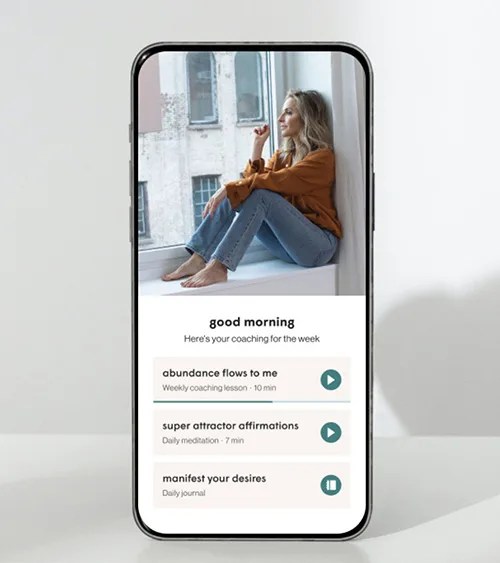 My NEW gabby coaching membership makes personal growth easy to access. Get weekly lessons, guided meditations and proven manifesting methods to enhance every area of your life—all inside the exclusive member's app. I'll be your coach to help you manifest your desires and live with an unshakeable sense of inner peace. 
disclaimer
This podcast is intended to educate, inspire, and support you on your personal journey towards inner peace. I am not a psychologist or a medical doctor and do not offer any professional health or medical advice. If you are suffering from any psychological or medical conditions, please seek help from a qualified health professional.